Certificate EV Charging Station Installer
According to the GMI Research forecasts, the India Electric Vehicle Battery Market is estimated to touch USD 963 million by the end of 2026, growing at a CAGR of 25.3% during 2019-2026. The rising environmental concerns, followed by the increasing number of government initiatives to reduce carbon emission by incentivizing electric vehicles, are the significant factors contributing to the growth of the India Electric Vehicle Battery Market.

With a target of 50 GWh, the NITI Aayog plan would support the establishment of anywhere between three to ten giga-factories of 20 GWh to 5 GWh capacity each in the country. There is a dual recognition that the ecosystem needs to be developed, but that cannot be done overnight; it has to be achieved in a phased manner. Gujarat, which has already seen large-scale investments for Li-ion battery manufacturing, is offering additional support in the form of subsidized utilities under the state's electronics policies. Telangana has announced the availability of 200 acres of land plus power and water for the manufacturing unit at a concessional rate. Andhra Pradesh, as early as 2017, announced the allocation of 200-400 acres for development of the electric mobility-focused industrial park.

Academy Of EV Technology will offer a course on Lithium Battery Pack Assembly course, covering li-ion cell to battery characteristic's, different parameters, EV battery Pack design aspect, calculation, assembly line unit detailing with financial aspects, govt guidelines, policies etc.
TRAINING METHODOLOGY:
Live Interactive Classes::
AEVT Live Interactive Class, where students and teachers meet together at schedule class time with whiteboard, voice and live video, Lectures and Question answer occur at the same hour.

Our expert faculty members take session on each paper that is delivered through live sessions. These sessions are joined by students from India and Abroad. Trainers will discuss in each class session about Key concepts, whiteboard calculation, design, costing, documentation, case studies and real life examples. Students also get chance to clarify their doubts / academic clarifications. If by any chance you miss these live classes, don't worry, each class recorded sessions are uploaded in the AEVT E-Library/LMS.
Hands-on Practical
We know that only theoretical knowledge by online or virtual classes are not sufficient to get full expertise. An individual needs a practical exposure to flourish in a Job or business market.
So we offer practical session at AEVT Lab/Workshop after completion of live interactive online classroom session .In this approach a trainees can fulfill his/her knowledge in a very effective way and time.

We offer project-based blended learning experiences that promote academic and career success for Technical Education.


Teaching and Learning Material
AEVT have dedicated online library (AEVT E-Library) facility for students and stored all Learning Material (E-book, class recording, business releated documents) at AEVT E-Library.
AEVT E Library System provides access to more than 100 + e-books covering all fields of knowledge, e.g. EV Battery - BMS, Charging Station Design, Installation, Government rules and Business opportunity etc and also we have a huge collection of national and international journals, case studies, research papers.Student can access this E-library for self study.
Eligibility
For Entrepreneurs, Startups:
Minimum Educational Qualifications: 12th Pass
Minimum age 18 years, No Upper Age bar
Medium:
English

Dedicated Service Desk for Startups - EDP Desk
"Ringfenced resource to support your business".

GATE Trust dedicated service desk will provide you with access to a group of engineers, advisors to supporting you and your business needs.
Certificate will be Awarded by
Academy of EV Technology, A Unit of Global Advanced Training & Educational Trust, Regd. under NCT New Delhi, Govt. of India
Course Syllabus:
Click to Explore
Unit: B-1
Types of Battery and Classification
A brief classification of li Ion cell technology and its electro-chemistry. Advantage and disadvantages of over different cell technologies.
History of development of Battery Technology
Energy storage technology in Electric vehicle
Comparison between IC Engine and EV energy storage Technology
Introduction to Lithium ion Cell
Role and responsibilities of BMS
Basic understanding of BMS Connections
Unit: B-2
Li ion cell Parameters
Battery cell parameters like cell voltage
Cell AH, Specific energy, life Cycle
Charging and discharging curve of li ion cells
C-rating,
Self discharge and other parameters like SOC, DOD
Unit: B-3
Battery Pack Sizing Considerations
Battery Pack sizing consideration like Time and charge/discharge cycles
Beginning of life (BOL)
End of life (EOL), Time
Battery life testing
Unit: B-4
Battery Charging, Protection, and Management System
why a BMS need for a battery pack
BMS building blocks
BMS characteristics
BMS operation
BMS classification
Unit: B-5
Battery Pack Sizing
size battery pack with considering all aspect of condition -
Range Calculation
Battery Capacity
Battery String Calculation
Unit: B-6
Battery Pack construction
Material need to assemble battery pack
Wires, connector selection, heat shrink, cell holder etc.
Different types of accessories related to battery pack construction
Battery Pack Assembly line - Cell testing & sorting, Module Formation, Spot Welding, Module BMS
Battery Pack Assembly line - Thermal management, Module to Pack Formation, Master BMS intregration
Battery Pack Assembly line - Pack Housing, Testing, Quality Certification
Unit: B-7
Battery Pack Assembly process
Manufacturing process of battery pack
Safety Considerations for BMS (Thermal Runaway, Short Circuit Detection etc)
Functional Safety Overview
Brief discussion about different machineries used in manufacturing
Flow chart of assembly process of li ion battery pack
Technical details of manufacturing machineries
Unit: B-8
Financial Projection of Li ion battery pack Manufacturing
Cost analysis of different machineries and manpower requirements
Return of Investment (ROI) of li ion battery pack business
Business projection to start a li ion battery pack business
---
Project based Practical
Battery Project
Self Project Documentation: Lithuim-ion Battery pack Production Line
Battery Lab
Lithuim-ion Battery pack Production Line
Optional:
available at Head office at any time.
Pre production Testing
Cell Capacity Testing
Lithium-ion Battery layout drawing & design
Selection of Battery Pack Construction Meterials
Cells Spot welding
BMS Intregation
Install in Thermal Isolation
Battery Pack Enclosure Installation
Battery Pack Ageing (Charging Discharging) Test
Battery pack Quality Testing
Preparation of Battery pack Datasheet
Pack specification, safety sign, Leveling
Boxing for Transport
Course Fee
Indian candidates Fees
Online Live Class Fees: Rs. 27999/-
Discount on Live Class Fees= 40%
Fees after discount: Rs. 16799/-
Lab Practical Fees: Rs. 3,999/-
All Fees Excluding 18% GST
If you are interested to join at Practical session, we will inform you and pay Hands on Practical Fees at that time.

Foreign Candidates Fees
Online Live Class Fees: $ 450 USD
Discount on Live Class Fees= 40%
Fees after discount: $ 270 USD
All Fees Excluding 18% GST
---
Submit Registeration for this course:
Submit Registration
Admission Process
Submit Registration
AEVT Admission cell will check form data and they will inform you to pay Course fees
Deposit Course fees
Admission cell will send your E-registration certificate and E-library access
Training cell will send you class schedule
Trainiers Team will send your class link
Training cell inform you about practical session at the end of Online live class session
Exam cell will conduct online examination and send E-Certificate, E-marksheet
EDP Desk will provide business guide/support for you (https://edpdesk.gatetrust.org )
Become an EV Expert with Verified Skill Certification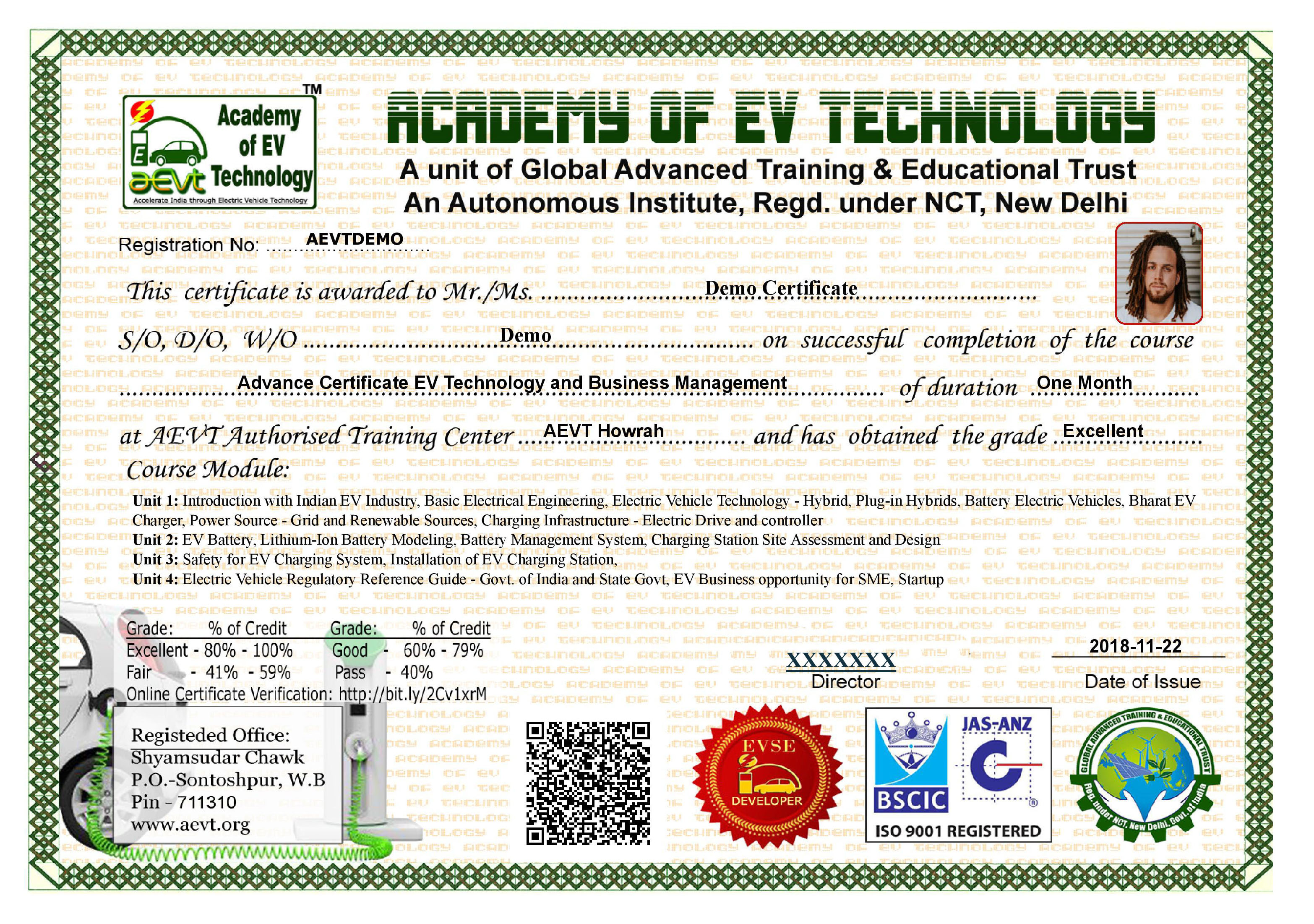 Academy of EV Technology is a unit of Global Advanced Training and Educational Trust (GATE Trust), An International Institute

1. An Autonomous Institute registered under NCT, Govt. of India under Indian Trust Act.
2. Registered Under NGO-DARPAN, NITI Aayog Govt. of India
3. ISO 9001:2015 registered Educational Trust
4. Academic Partner of University of Petroleum & Energy Studies (2020)
5. Registered under 80G and 12A and CSR Act, Govt. of India
6. Awarded Full Accreditation by International Accreditation Organization (IOA) for global education standards.
7. Fully organised Practical and Research Lab at GATE Trust Howrah, West Bengal
8. GATE Research - Research unit of Global Advanced Training and Educational Trust. You can Write & Publish a Review/Research paper,
---